Do you ignore your bath too?
Often we have all we need to look after our self-care needs at home, to help replenish the mind and body. We can often forget our baths, shaped to invite you to sit in them, soak, relax, contemplate, ease out achy muscles and perhaps soothe a busy tired mind. Yes, we often ignore these inviting cocoons to hold you in. We pass it everyday and perhaps occasionally think ' I really should have a bath'..and yet life goes on!
For me, I know my bath was slightly under used, after redoing our bathroom, turning it from a dark unwelcoming space into something lovely and deciding to sacrifice a unnecessary large wet room for a bath. I'm so glad we kept the bath, whilst I had good intentions to use it regularly, I even stacked up all the products I would use with it,  it didn't happen until…we had to to stay at home, for a very long time!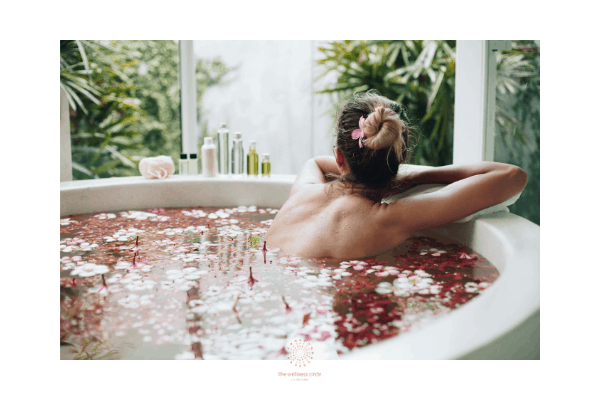 The Bathroom became a sanctuary for escaping. I craved extra time for self-care and well-being and so a new Saturday night bathing ritual was formed, my bathroom became a heavenly Spa and I'm glad I owned this time for resting and nourishing through what became regular weekly baths, a new self care ritual. It was what I needed and helped hugely with reducing stress and importantly helped to get a good nights sleep.
Taking baths can reduce stress, improve cold symptoms through the steam, relax muscles,  aid in a great nights sleep.Our ancestors knew what they were doing..
Ancient bath rituals..
It's no wonder, it's an ancient practise dating back to Stone age. Many had their own sophisticated bathing rituals whether for hygienic, religious, therapeutic, or even social purposes.
Roman bathhouses were the center of the town or city — hubs for exercise, relaxation, and socializing. Men who attended these baths would first exercise to work up a sweat, I doubt they  wore sport gear, then scrape off their perspiration with a little tool called a strigil. They would then  go from a tepid bath to a hot one, followed by a plunge into a cold bath. The bathhouses even offered medical treatment and haircuts as barbers back then could also pull teeth and do minor surgeries! Yikes! I A place to go to often socialize. I think the modern Spa takes elements of our ancient history of bathing offering saunas and plunge pools of bathing with it also being a more private practise.
And so the power of hot and cold water for good circulation continues. Heats helps to ease muscle tension and is great to also prevent lactic acid from building up with magnesium bath salts. Tension can build up quickly in the body if not released so bathing really helps to unravel knots and aches, the heat from water alone can do it and you I always you the following products below to enhance the whole experience.
No longer the thought,' I need to do this more often'. I'm delighted bathing is now  part of my self-care and I also use it as an opportunity to do a facial, massage and hair mask. With all these usual services taken from us,  this  acts as a lovely 'Me-time' Spa escape :) This is how I prepare for this time and I've also include some natural products and herbs below,   all natural and promote and aid healing and well-being.
The full self- care whammy!
Essential kit:
Importantly time to enjoy
Good music play-list- I use Spotify & i-tunes
Do not disturb alert to everyone (!)
Enough hot water, nothing worse than a mildly warm bath :)
Products to help you feel great- see below
A good book- Just be careful!
Glass of bubbly or any drink in flute always create and occasion
Face towel for bath, to steam skin
Another for back/shoulders to ease tension
Soft Towel for afterwards- nothing worse than a thread-bare one (!)

My bath essentials;
I do not add all these items at once! Generally some oil for moisturizing, a scent (essential oil) or herbs. Sometimes a bath bomb is enough if it contains essential oils. Check in how you are feeling and adapt what you use accordingly.
Bath-Bombs
They create a bit of fun and having discovered Dublin Herbalists natural bombs with essential oils, it really makes a nourishing, pampering experience and you're left with natural floating flowers such as rose, chamomile and lavendar, a visual treat.
Seaweed Bath
Scientific studies have confirmed that seaweed bathing helps lower body stress and relieve skin conditions (psoriasis, eczema, acne etc). I like to use Mungo Murphy's seaweed bath.  It has shown to reduce muscle aches and joint stiffness (rheumatism and arthritis), and excellent for some circulatory problems.Not for everyone but if you love seaweed like me and not ready for the Irish sea, you will feel the benefits. It's also deeply moisturizing for the skin.
Bay Leaf
I'm have a lovely Bay leaf tree in my garden and bring the leaves in to dry. You can crush a handful and add to bath.
Bay leaves also contain parthenolides. They  help in relieving aches and pains as well. They also contain antioxidants called eugenol that helps in relieving and reducing inflammations in the body that could be causing aches and pain. The scent itself is hugely uplifting.
Thyme
Another uplifting herb and is great for achy muscles.
To enjoy a thyme bath tie around 200g of thyme sprigs together and let this steep in the hot water or simply add to water loosely.
 Essential Oils
A few drops to a bath can bring the experience to another level. I generally love lavender & ylang ylang for their deeply soothing qualities. Check for essential oil for usage with brand. I love 'The Nature of Things' essentials oils, very pure in scent.
Body Oil – Massage & Hair
I also like to add a cold pressed oil to my bath, often an Almond oil as it's very moisturizing. Combined with the heat it really softens the hardest skin! And often I will do a hair mask with some oil and leave overnight. Make sure to cover our pillow case, you'll be left with the shiniest, sleek hair.
Mask/ Exfoliate
Doing a facial in the bath, helps me keep my self-care routines in check and skin looking good. After cleansing, exfoliating, I generally use cotton towel on face and then add a clay mask. I'm loving Claudaline's clay mask now and also Mungo Murphy's seaweed mask which is wonderful for senstive/ dry skin.  Seaweed also helps s to prevent damage to amino acids and protects the cell's membranes. Because it reinforces the cell membranes it in turn protects against free radical attacks, which accelerate ageing.
Lastly, enjoying the time to 'just be' letting the chatter melt away and connecting back to the breath, helping to unwind
Natural Baths
And of course we can take the whole bathing experience to another level through travel, wild swimming in rivers, seas and lakes too at home.
Places were you are lucky to have to yourself with the sounds of nature around. Swimming, bathing in the sea rich with seaweed, magnesium of course is another way to keep your cup full and connect with water at a slightly cooler temperature! It's no surprise there has been a n increase in sea swimming lately, the benefits for mental health are huge and for me
it was a reminder that every day is changing and in motion. I'm lucky to have many beautiful places to swim around Wicklow. I was lucky to discover some amazing bathing places on my travels. I'll never forget my visit to Rotorua in New Zealand's North Island. The fist thing I noticed in the town was the stench in the town from the sulphur of the natural springs and geothermal activity. Often referred to as 'Sulphur City'. However the bubbling mineral springs and pools promise maximum relaxation in Rotorua, on New Zealand's North Island. A really unique experience with hot hot bathing spring water, I last less than a minute in some! Therapeutic hot mud pools and hot springs offer an unforgettable visit with Lake Rotorua always in view.
There are many bathing options too around Ireland offering that connection to the outdoors and nature and importantly bringing back some heat (!) Some of my favourites are the Voya  'Seaweed Baths' in Sligo and the mobile seaweed baths in Claire- ' Wild Atlantic Seaweed Bath'.  At the 'Forty Foot' in Co.Dublin, you sometimes will find a mobile sauna, making getting into the sea that bit easier.
Bathing Products and self-care daily
You will find quite a  few of the products, I spoke about in my Wellness Boxes here. Each box prompts daily self-care rituals. Self care routines become so more habitual when we enjoy them helping to show up for ourselves.
If you've read this far, thank you and you can keep updated with me here to get future Wellness blogs directly to your inbox.
Happy bathing :)
x
yasmina