How was your Christmas?
Often with family home from overseas, re-unions with friends, rich food and drink over the Christmas season…repeated daily over a week, sometimes more, we can be left simply exhausted for January and just wanting to sit on the couch with your favourite series of Netflix on! If you are feeling this way I hope this helps you, a holistic nurturing approach to Well-being that does the trick for me.
These '5 Simple health Tips' will help you look after your health in the long term. The massage is a sample of how you can take care of yourself really well but if you look at is as an 'indulgent' or too much of 'an expense' then maybe ask yourself 'How can I relieve stress? and ' What knock on effect will this have for me if I treat myself to a monthly massage'? Massage is an ancient tradition and a very effective way to get you feeling wonderful.
It's not too late to these tips into practice. I certainly will. After working hard on fitness for the year, I'm not going to undue all that hard work that two weeks over Christmas can cause! These are not quick fixes for loosing weight or gaining core strength overnight but more stepping stones to help form good healthy habits, that repeated daily will help form long term healthy habits that can be kept and importantly are enjoyable.
'Healthy New Year resolutions' can often be TOO ambitious and often one month in, goals that are not realistic are ditched. I'm not a fan of the word 'resolutions' it sounds too much like punishment (!) and so I call them 'Intentions'. Even saying that to yourself feels kinder and I believe when we want to be healthier, we need to start by being kind to ourselves first. I couldn't help but noticed in my local health club last week how packed it was, I know though next month it will be less busy and then in March back to regular attendees.
Set goals you can keep and that don't make you cringe each time you go to do them!
Top Tips for stepping into the New Year with more energy!
Get outdoors
Try and get outdoors moving daily! Movement is the best source of energy and fresh air and nature is a tonic for the body. Daylight is needed to help with a good nights sleep. Why not make a social occasion of it too, meet a friends, family and go on a hike. Try that walk route you've been meaning to do!
2. Book yourself a Massage
This is what I hear most after a session of Onsite Massage in Companies. I only discovered my first massage when I was 25 and I thought, I have been missing out, big-time!! I think perhaps its a cultural thing when compared to other countries and how people might view. When I was living in Australia my Australian friends would say 'I'm just off for my massage' a regular self care routine that so many people I met availed of, not only for injury, but as part of their self care routine. I always thought the Australians were a step ahead when it comes to health-care!
Massage can help greatly with stress and taking away aches and muscle pains the body may hold, unfortunately they don't go away by themselves. It's very easy to get used to aches (and not a good thing!) and often it is only after a massage you realise how sore you were. Massage can also help release trauma to the body.
Office workers are more inclined to get upper body stiffness due to the nature of the work. Massage can be used as a tool to simply keep the body good shape, it enhances the immune system and boosts energy and mood. *Just 10-15 minutes of a massaging has shown to reduce blood pressure and cortisol levels (stress hormones). We offer well-being to the workplace with our onsite massage services. I still love hearing the reaction of how amazed people are with the affects after just 15 minutes of a massage session. If you have private health insurance you might also be covered for some if not all of cost. It's worth checking out.
3. Eat well
My approach to eating well is everything in moderation with lots of fresh vegetable servings. If you indulge more one day, take it easy the next..etc You can enjoy fresh breakfast juices, healthy soups, lighter foods etc.. I often find the more time we have, the more enjoyable it is to prepare healthy delicious meals, no rush.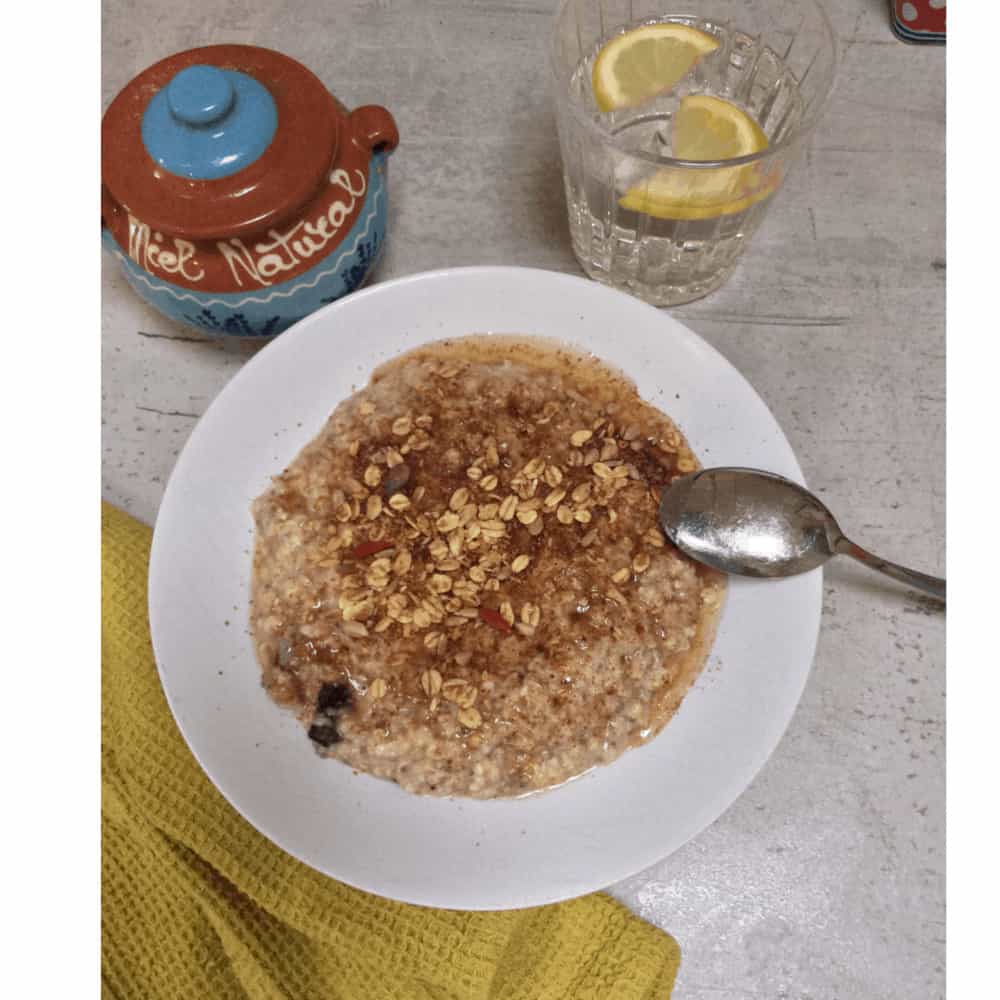 Today with an abundance of good local fresh produce and online resources we don't necessarily have to be a good chef to eat well! Using fresh local produce affects overall flavour and of course nutrients to your body. We're lucky to have a super local fruit and veg shop "The Happy pear' nearby. If you don't, there are fresh food fruit & veg suppliers that deliver to your door! I have heard from friends 'The Organic Supermarket' are great. Powders are a great way to get essential minerals into your body. I've started using 'Cacoa powder' in my porridge every morning, full of iron & potassium and it's quick and easy way to get nutrients into the body, I also add 'Goji berries' little power houses for the body, used for centuries. They are said to lower blood sugar levels and provide double Vitamin A requirement and they have a third of daily Vitamin C requirement. All in these little red berries! My kids love them too, and pick and choose their toppings for porridge..
Plan your meals ..so when you go shopping you aren't just buying random things that you end of chucking away! If you are out for the day, bring healthy snacks, nuts, fruit etc Make life easier for you, cook meals to last two days or more :) and remember the freezer.
After the Christmas break, I decided to up my water intake with lemon and ate some foods to help detoxify the body naturally. Apple compote in the morning and golden milk in the evening, lighter food helping to restore the body with warming spices for colder days, giving your body what it needs.
Online resources from chef's can be a great source of inspirations. Donal Skehan does great easy, cook in 15 minutes nutritious meals, he also makes cooking fun! I'm always inspired with Susan Jane White's super healthy meals and her batch cooking tips will free up time for you too. I always go back to my recipe collection scrap- book which is started is very worn & bulging! It has delicious recipes shared from family and friends in France & Spain with many cut outs from newspapers and magazines. I love how certain meals and smells can evoke strong memories and bring you back to a place and time.
4. Sleep
Did you know as Nation we are not getting enough sleep? After a good nights rest your feel energised and ready for the next day and life's challenges! According to the'National Sleep Foundation' for adults we need 7-9 hours. Do you get that or do you dream of sleeping well? Sleep can come easily if were following healthy routines. Sometimes though it can be easy to stay up late, catching up on things but then you may suffer from 'sleep debt' which is where you forget what it's like to be 'truly rested'.
Stimulants like coffee, alarm clocks and devices do affect our natural sleep cycle as the brain remain active for longer. For good sleep we need to allow ourselves to wind down in the evening. It's something I've put into practice more lately, it's almost like treating yourself to a good nights sleep :)
To help, you could try having a bath, sometimes I think it's easy to forget this lovely luxury. So soothing and great for unwinding a busy mind. I love using Neals Yard essential oils, they are 100% natural and smell divine. Lavander is great for relaxing and has a calming affect on the nervous system. You can add a few drops to bath or burn in a oil burner or on some cotton wool in your room.. Turn on your favourite music for relaxing. I use the app Spotify, where you can add all your favourite music artists and make playlists. Spas always use aids to help soothe the senses and body, why not bring this into your home? My recent addition for bed-time is Tisserand's Lavender roller ball for bedtime.. sends you off into a blissful nights sleep dreaming of Lavender fields and sunshine!
5. Reflect
In a world of 'doing' there is great joy in enjoying the moment, no planning just being. Taking time to reflect can help us get to where we would like to be in our lives and can help greatly with clarity. What would you like to change or bring into your life, make baby steps towards making those changes for this Year.. write them down. Allowing space in our days is when clarity comes in and a sense of calm.
I will be sharing some healthy receipes for my 'Golden Milk' and 'Apple compote' (cleanses liver), great for supporting the immune system and calming it.
If you would like to be first to receive them you can sign up here!
Thanks for reading and wishing you the very best in health and happiness for 2020!