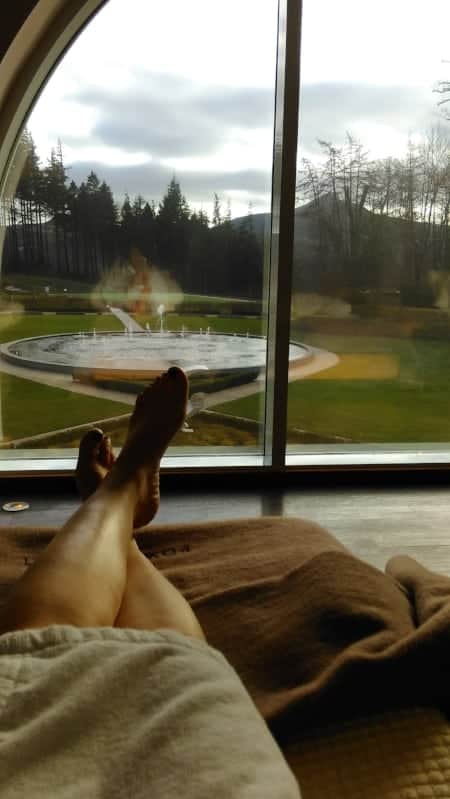 New Year-  New intentions
Sometimes, New-Year wellness resolutions with all good intentions can be quite ambitious and often short-lived too as a result. This year I set gradual health goals, whilst incorporating therapies and occasional Spa days to help restore and nourish mind and body the body. Little attainable steps to help to keep a wellness routine more constant, enjoyable and long-lasting.
I'm helping the New- Year de-detoxifying process with drinking herbal detox teas, tons of water and lemon, having hot baths with Epsom salts and generally cutting out all junk. I was over the moon when my husband gave me a christmas gift of a day 'Spa gift' to the 'Powerscourt Spa' in Enniskerry..
So off to a fabulous start for the New Year, after dropping the kids off to school, I drove to Enniskerry to Spa last Monday on a bright frosty day. I was greeted by some beautiful horses on the entrance to the Powerscourt Estate. I had to stop the car to take in their beauty, with the white dusted Wicklow hills in the background. There's something magical about white horses and I knew the day would only get better…
Powerscourt Spa
Walking into the Powerscourt hotel draws your breath, with its floor to ceiling Windows overlooking the Sugar-loaf. On this cold day, the fire was welcoming.
I arrived at the Spa for 10am. When making the reservation, they suggested allowing 2 hours to enjoy the Spa facilities before treatment. The reception is very spacious with dimmed lighting and beautifully displayed ESPA products. My gift voucher was for a 'Indulging Spa Day' which included two treatments, lunch and full use of facilities. I was so excited at the thought of a day relaxing without doing anything..
After a quick friendly check-in, I was shown to the changing rooms and told there were two sauna areas, one for men  and women downstairs and another upstairs for women only. Here there was a lovely marble vanity. There was more than ample room for changing and lockers that were easy to use. The showers rooms were again generous in size with ESPA products to enjoy.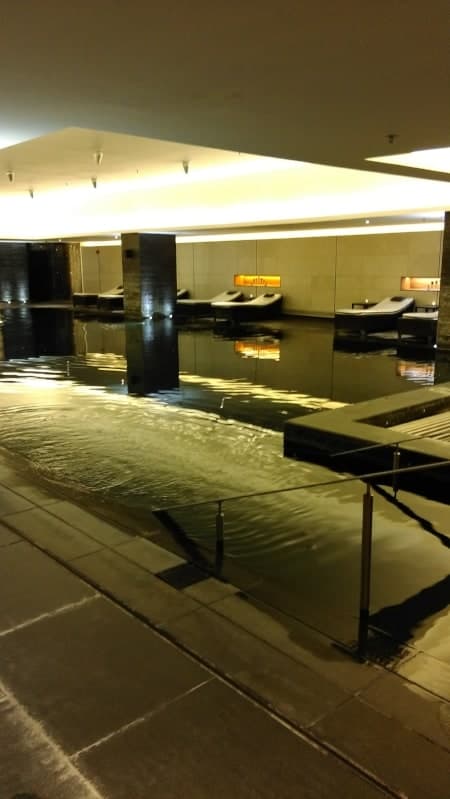 Delight the Senses
The  pool area has twinkly Swarovski lights and plenty of loungers around to chill on. The dimmed lighted create a very soothing atmosphere. You could hear the soothing sounds of water falling with a water wall feature. Swimming here takes on a more relaxing approach with the dimmed lights and soothing music and just the right heated temperature. I moved on to the adjoining Jacuzzi bath where you could lie down, I felt all my muscles getting a good jet- massage and already feeling more relaxed.
Just when I thought it couldn't get any better, I decided to try out the Hamman facilities. They recommend you spend a max. of 30 minutes, with 10 minutes each in the sauna and 'Crystal Steam Room' allowing for cooling down in between and drinking lots of water. The sauna was a treat, large and very hot, offering instant relaxation for the body. After a quick ice bucket shower, (which I let out a few shrieks) I moved onto the Crystal Steam room. The setting is fab with a large white quartz like crystal as a Centre piece.
With my massage appointment time nearing I moved upstairs via the elegant staircase by the suspended leaf light crystals. I checked out the ladies only area and the place to myself. Here the plunge pool has views overlooking the Sugarloaf Mountain and a Sauna with a  window view too. At this stage I was feeling deeply relaxed and happily lied down into one of the heated seat loungers.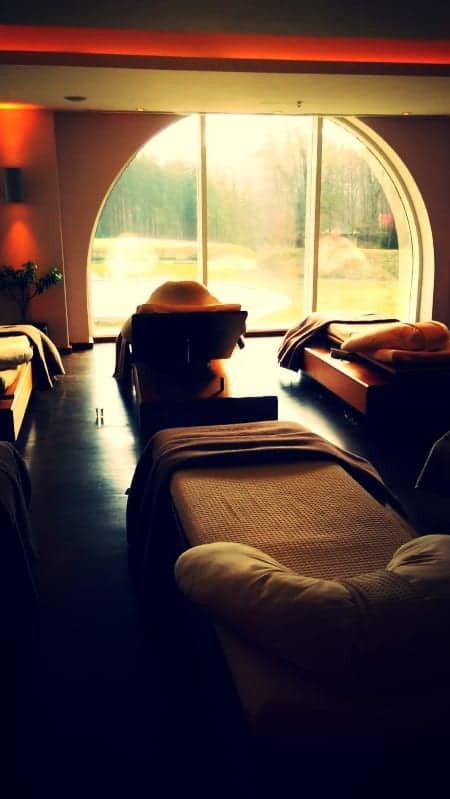 Treatment
With a few minutes to spare I went next door into the 'Serenity room'. It's a jaw dropping room with a real sense of tranquillity about it, with the loungers facing the stunning mountain views. You can enjoy some herbal teas, dried fruit, iced lemon water and music on your lounger if that takes your fancy. Worried that I might doze off , I moved out into the reception area for my massage.
A lovely lady called Suzanne greeted me and told me she would look after me for my treatments. Again another delight to see the very spacious treatment room with the perfect temperature and something that is often over-looked. They have 20 treatment rooms altogether.
Suzanne gave me different choice options for my treatments and something I loved, she asked me to choose a scent for massage oil, I opted for the Sandlewood. After asking me about what pressure I liked tucking the towels professionally in, I drifted into the most relaxed state. She soothed out all the knots and my tight shoulders and had the pressure just right. She knew exactly where to focus on and when to ease off. After a 45 massage I enjoyed a 'Hydrating ESPA facial' with the most gloriously scented oils and creams. She used a new range of ESPA exfoliator which I loved, as it was massaged into the skin the beads disappeared.
The treatment was finished and Suzanne met me outside with a refreshing passion-fruit ice-cream…off I floated back to the relaxation room to wake myself up a bit before lunch.
The Spa Café is located in the reception area. The meal offered was light and healthy and very delicious! We all sat in our bath robes, too relaxed to be self-conscious! I was offered a choice of sandwiches and opted for the Tuna option on homemade brown soda bread..it came with a lovely mushroom soup and Greek Salad. The dessert of Panna Cotta was perfect, a lovely was to end the most relaxing, replenishing day. My body felt soothed and my mind relaxed.
I drifted out from the Hotel reception, thinking of my blissful day as I drove off  to pick up the kids from school.
——————————————————————————————
If you would like to help your Spa standout, I'm taking bookings for my Spa services when doors open again.
Thanks for reading,
Yasmina