Just over two years ago I chatted with the lovely Alison in Super- Valu Greystones where I learnt about Dr. Coy's Health foods from her enticing samples. I tried some of her delicious 'Mint chocolate bars'. I was instantly hooked and noticed afterwards I didn't have the usual energy sugar rush..just a lingering taste of yummy fresh mint.

Since, we have been using her now expanded range of products at home. Not only do they taste great but it's really satisfying being able to cook up healthy dishes for the family. My kids love the healthy chocolate bars and get to choose from Raspberry, Coconut, Ginger-Lime & Cranberry- Pistachio & Mint!
I caught up recently with Alison to learn more about Dr. Coy's.
How did your journey begin with Dr. Coy's health food products?
Whilst working in Germany in 2010, I had just had my first child and struggled to find truly healthy snacks for children and myself, ones that did not spike insulin and blood sugar levels. I heard Dr. Coy speak at a conference and inspired by his research reached out to him proposing to commercialise his invention to bring it to a wider audience. And so Dr. Coy's Health Foods was born.
What do you think is the main benefit from eating your delicious products?
Our Nutritional Chocolate uses naturally-derived, non-insulin spiking sugars. When compared to regular sugar these sugars offer a lower and slower blood glucose rise without the crash. They are not broken down in the mouth and as such are toothfriendly. This Nutritional Chocolate also contains tocotrienol- a concentrated plant form of Vitamin E. One bar is 40% of your recommended intake of Vitamin E. Our chocolate range is also complemented with a free from cooking collection including Organic Virgin Coconut Oil, Organic Coconut Flour, an Organic Vegetable Seasoning and Stevia Erylite for sugar free baking.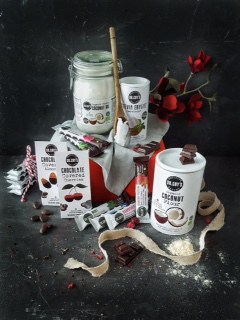 A selection of Dr. Coy's healthy products
I love the way your chocolate bars offer a healthy alternative which my own children love! How do you promote healthy eating with your own children?
I always cook dinners from scratch and gave my children home cooked meals from the moment they could start eating solids. My ethos is to give them a hugely varied diet at an early age to get their taste buds accustomed to a whole range of flavours. As much as possible I have cut out refined sugar from their diets. I always encourage them to try new things and explain how certain foods are healthier than others. People are sometimes amazed at the type of foods they love eating.
In my baby massage classes, I offer organic oils which help greatly with cradle cap & dry skin. How do you use your Dr. Coy's Coconut oil at home?
Indeed coconut oil is so varied in its uses. I cook almost everything with Dr. Coy's Organic Coconut oil. I also use it for baking and love trying new recipes from Helmsley and Helmsley, Indy Power (aka The Little Green Spoon), Susan Jane White or Peachy Palate. I always keep a small jar in the bathroom which I use as a make-up remover and body moisturiser.
How do you manage your work-life balance?
I find putting structure to the week and planning breaks for the week ahead keeps me on track! My weekly workouts consist of a mix of jogs along the coast in beautiful Greystones, HIIT workout sessions and yoga. I keep away from electronic devices at the weekend so that I can focus on quality time with the kids.
Do you have a favourite complementary therapy you enjoy?
Anytime I have had any issues with muscle pain e.g. last year after a car accident I went for a few sessions of MyoreflexTherapy with Jill in Greystones. This treatment style is highly effective at realigning the whole muscle chain. The treatment itself is quite intense but you feel amazing afterwards.
What style of cooking do you enjoy at home? Do you have a favourite restaurant in Ireland?
I enjoy cooking everything from Thai, Indian to Mediterranean style dishes. I particularly love cooking and eating fish dishes. This time of year I adore cooking wild Irish salmon which is a favourite with the family. As a treat I love going to 'Taste at Rustic' by Dylan McGrath. The mix of flavours used is sensational and the fish melts in your mouth! I also love 'Cavistons' in Glasthule and would love to try out 'Heron and Grey' in Blackrock.
What's your ideal family day out?
Rucksack on back and going on a hike to explore somewhere new with the whole family.
What do you love most about living in County Wicklow?
You simply cant beat having the sea, mountains and lakes all in such close proximity with so many stunning places to explore. Its a wonderful and safe place to bring up kids.
Any tips for people who are thinking of starting their own business?
Spend plenty of time researching your idea and understanding in depth your customers' needs. This will be of huge benefit at a later stage as you define and refine your product offering, brand and positioning vs the competition. Speak to those in the industry who have also set up their own business to get a full understanding of what's involved. Otherwise go for it, its a huge challenge but can be highly rewarding on many levels. In the food industry there are great supports out there such as Bord Bia, Dublin Food Chain, SuperValu's Food Academy Programme and the FoodWorks programme. We have a wonderful network of food producers with whom we can collaborate with and bounce ideas of.
Thank you Alison! Visit Dr. Coy's here