Working as a Complementary Therapist you think I would have this 'work-life' balance fine tuned? Normally yes, but sometimes life can take over and you can simply forget to check in with yourself, allowing time to nurture and restore the mind and body
As a practicing therapist, you can burn out physically. Recently a reminder of this came home to me how much I needed a break away without my kids (who I adore of course!). After a tough year, it felt like time to step back and have a proper break. Time to be slow down, unwind and just take stock of the year.What I do know for sure is when left unchecked stress builds up in the body and can lead to illness.
This little reminder came in the form of an exercise I had to do as part of a 'Foundation course' with Bite the biscuit Factory. It was an insightful month long course helping to build and understand your business more. For this exercise we had to assess our 'work-life balance'. I do consider myself to lead a healthy lifestyle in the form of balanced diet and regular exercise, however time for ME and my partner scored miserably! Don't get me wrong, we're lucky to enjoy traveling abroad visiting family and live and a very active outdoorsy life-style but what really struck me was the lack of time we had for each-other and just even myself!

Daily swims in this clear warm aqua-marine water in Mallorca where we stumbled across many secluded beaches perfect for snorkelling
The next day I booked a holiday to an adult only hotel by the sea. Yes, a bit dramatic you might say! It wasn't done on a whim, when the offer came in from my wonderful parents to mind the kids, I had to think about it….overnight..the guilt was mighty. It's only afterwards I realised how necessary it is to invest time in nourishing relationships, nourishing your body, getting rest..SLOWING DOWN, saying 'no' more and having fun WITHOUT the guilt trip!
You can always make excuses, like not really being able to afford it or something else is more important but life passes by quickly and holidays and special times makes memories forever. Somehow time does slow down. Needless to say it was an amazing break by the sea with hiking, paddle-boarding, good food, sunshine, & laughter. I came back so energised with more clarity for work and passion for life! But really, the lesson learnt was when the glass is half empty how on earth can we look after others?
If however a holiday is just not possible here are a few 'wellness tips' that I try to bring in to my every day living. It's not rocket science but the nourishment and well-being you receive by bringing this simple steps into your life is well worth the effort! Be kind to yourself always and try new things slowly with small steps..
1. Book yourself a massage!

Onsite massage with 'The wellness circle' at U.C.D healthy week initiative.
Indulge. Massage can help greatly with stress and taking away aches and muscle pains the body may hold, unfortunately they don't go away by themselves. It's very easy to get used to aches (and not a good thing!) and often it is only after a massage you realise how sore you were. Office workers are more inclined to get upper body stiffness due to the nature of the work. Massage can be used as a tool to simply keep the body good shape, it enhances the immune system and boosts energy and mood. *Just 10-15 minutes of a massaging has shown to reduce blood pressure and cortisol levels (stress hormones). We offer well-being to the workplace with our onsite massage services. Can you remember how good you felt after your last massage?! If you have private health insurance you might also be covered for some if not all of cost. It's worth checking out.
2. Eat well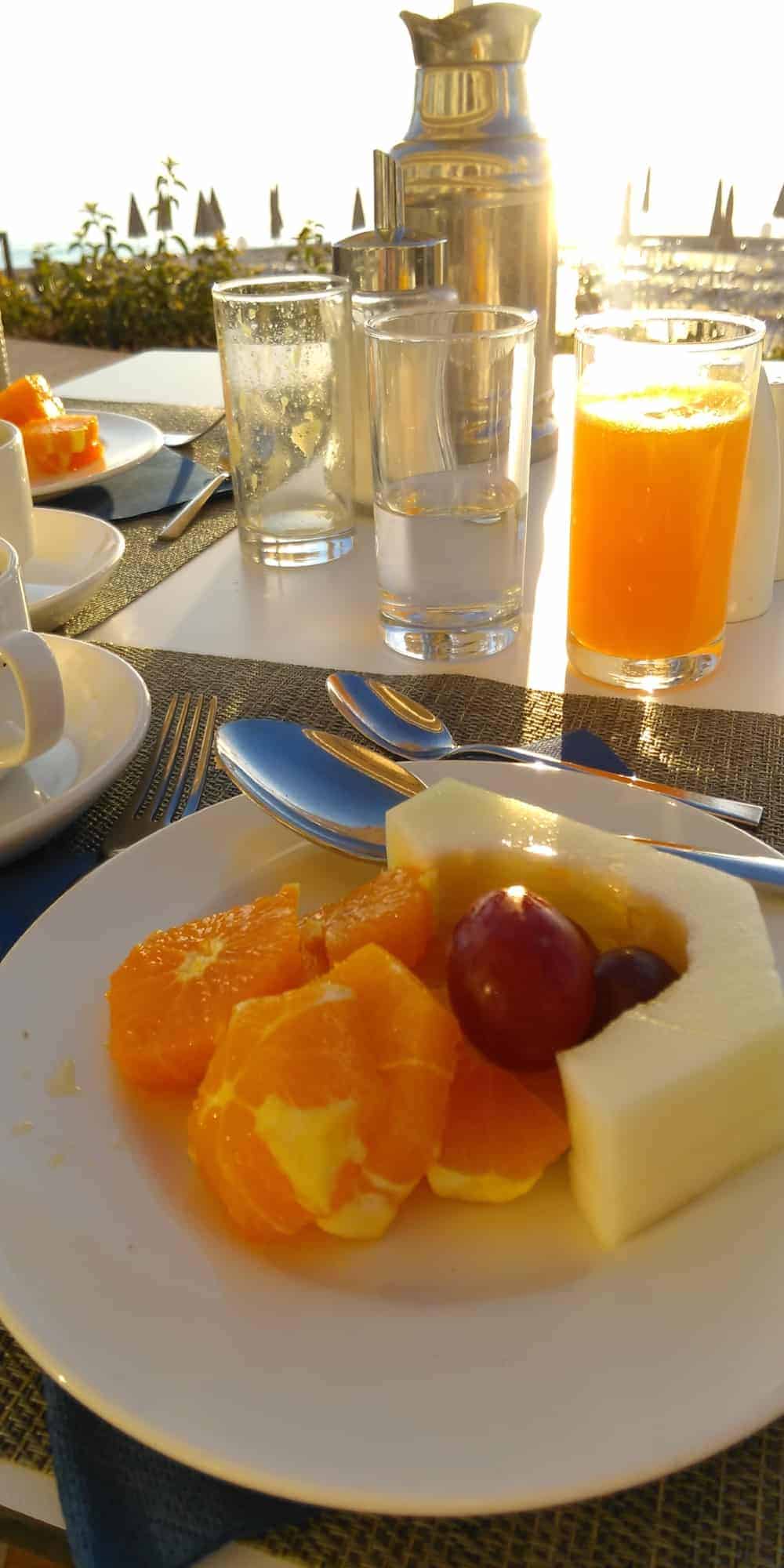 Nourishing the mind & body, lazy long breakfasts watching boats go by..
Today with an abundance of good local fresh produce and online resources we don't necessarily have to be a good chef to eat well! Using fresh local produce affects overall flavour and of course nutrients to your body. We're lucky to have a super local fruit and veg shop "The Happy pear' nearby. If you don't, there are fresh food fruit & veg suppliers that deliver to your door! I have heard from friends 'The Organic Supermarket' are great. Powders are a great way to get essential minerals into your body. I've started using 'Cacoa powder' in my porridge every morning, full of iron & potassium and it's quick and easy way to get nutrients into the body.
Plan your meals..so when you go shopping you aren't just buying random things that you end of chucking away! If you are out for the day, bring healthy snacks, nuts, fruit etc Make life easier for you, cook meals to last two days or more :) and remember the freezer.
Online resources many from chef's can be a great source of inspirations. Donal Skehan does great easy, cook in 5 minutes nutritious meals, he also makes cooking fun! My shelves are packed with cook books for inspiration, some more used than others! I always go back to my recipe collection book which is started is very worn & bulging! It has delicious recipes shared from family and friends in France & Spain with many cut outs from newspapers and magazines..I love how certain meals and smells can evoke strong memories and bring you back to a place and time…
3. Sleep
After a good nights rest your feel energised and ready for the next day and life's challenges! According to the 'National Sleep Foundation' for adults we need 7-9 hours. Do you get that or do you dream of sleeping well? Sleep can come easily if were following healthy routines. Sometimes though it can be easy to stay up late, catching up on things but then you may suffer from 'sleep debt' which is where you forget what it's like to be 'truly rested'.
Stimulants like coffee, alarm clocks and devices do affect our natural sleep cycle as the brain remain active for longer. For good sleep we need to allow ourselves to wind down in the evening. It's something I've put into practice more lately, it's almost like treating yourself to a good nights sleep :)
To help, you could try having a bath, sometimes I think it's easy to forget this lovely luxury. So soothing and great for unwinding a busy mind. I love using Neals Yard essential oils, they are 100% natural and smell divine. Lavander is great for relaxing and has a calming affect on the nervous system. You can add a few drops to bath or burn in a oil burner or on some cotton wool in your room.. Turn on your favourite music for relaxing. I use the app Spotify, where you can add all your favourite music artists and make playlists. Spas always use aids to help soothe the senses and body, why not bring this into your home?
4. Connect with friends
Do you ever feel like your running a race to get things done?! Make time to see family and friends, nothing like a banter and enjoying good company. It's good for the soul and the mind. Yes, the 'to do' list can wait..and you will feel the better for it after a good natter with good pals.
5. Exercise outdoors
Make it as part of your weekly plan just as your schedule your work and social life! Get outdoors to a place you like to go, by the sea, in the woods..great for the mind to unwind. Fresh air helps cleans the lungs and this in turn increases your energy so it makes sense to try and do your exercise outdoors. Don't let bad weather deter you! Getting a good dose of fresh air increases serotonin in our bodys promotes happiness and wellbeing. Connecting with nature helps greatly to relax the mind. We're lucky to have the Wicklow mountains on our doorstep with amazing trails and wildlife nearby. Why not make it more enjoyable by getting a friend onboard for a weekly outdoor catchup with exercise, that way you can each motivate each other :) Keep an eye on this page where I will share some hikes around Ireland with you :)
I hope you enjoyed reading my 1st blog ever written! I will write more about well-being related topics and watch out for my upcoming 'Interview series' where knowledge will be shared from experts in the field of wellness. Please feel free to comment and share & keep in touch with me here:)
Check out here how we can bring wellness to your office space.